The Oklahoma City Stamp Club meets on the first and third Tuesdays of the month at 7 PM.  Meetings are held at:
St. Luke's Methodist Church  –  Room 204
NW 15th & Harvey
Oklahoma City, OK
THERE IS PARKING ON THE North Side of NW 15th Street or on the West Side of N. Harvey Avenue.  If you want to use the elevator to get to the 2nd floor, it is  recommended you park in the West Lot and enter through the NW Door to the Church Building.   The Elevator will be on your right.  Then follow the signs to Room 204.    (See map below)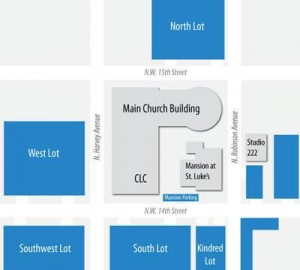 The meetings are always fun and educational, and everyone is invited to attend.  We guarantee to make you feel welcome whether you are young or just young at heart.
Here is the schedule for the rest of 2016.  If a meeting is listed as TBA, the topic will be forthcoming soon.
SEPT 6:
Open House, and
A Great Presentation On The World's Rarest Stamp.
SEPT 20:
Real Show and Tell (Everyone bring one item and tell about it)
and
Tell Us About Yourself (Clark Ovrebo program leader)
PLUS:  NEW NAME TAGS WILL BE AVAILABLE!!
OCT. 4: AUCTION
OCT. 18: TBA
NOV. 1: TBA
NOV 15:  Brady Hunt Oklahoma Hotel Covers
DEC 6:  AUCTION OR XMAS PARTY
DEC 20:  XMAS PARTY